Unusual Experiences Become Usual
Our first experience of sharing Brian's story at The Compassionate Friends meeting (a support group for families grieving the death of a child) surprised us. We found that other parents had similar stories to tell.

It was sort of "hush-hush." No one mentioned anything until Kathryn and I told some of Brian's story at a meeting. Then, after we finished, the other parents began to tell of their own unusual experiences. The first time we did this, there were fifteen sets of parents at the meeting, of whom eight were living with their children when they died. Of these eight, four children had premonitions concerning their accidental deaths. One twelve-year old boy, who died in a car accident, gave his mother a list of his life accomplishments the evening before his death and talked about what he wanted to achieve in the future.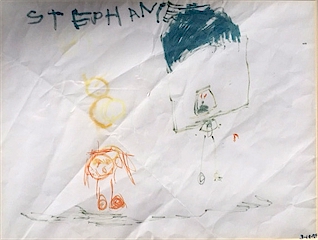 One mother, who worked at my hospital, told us the story of her four-year-old daughter, Stephanie. She died on a playground slide at her daycare center when a ribbon caught around her neck and strangled her. This mother brought in the picture Stephanie had drawn twenty minutes before she died, showing her dead body in dark colors hanging by the neck. Off to the side is a drawing of her in bright colors putting on a yellow halo, with a yellow angel in the sky dropping more halos down to her. "Stephanie always said that she did not want to grow up and go to school like the other children," this woman said. "She was very special and artistic and loved everything with all her heart. Almost every day, she would tell me, 'Know what? I love you with a mad passion!'" Stephanie sounded a lot like Brian to me. I also noticed that the media's coverage of her death withheld any mention of Stephanie's picture, just as they had omitted Brian's foretelling of his death.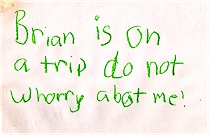 A year later, at another TCF meeting, the same thing happened again. I told Brian's story and then spent the next hour listening as the other parents told of their own paranormal experiences surrounding the deaths of their children. All they needed to share these amazing stories was a safe and sympathetic ear, something they had not found previously. "This 'magic' stuff is all around us, Kath," I said later. "But nobody wants to talk about it."
"But Pooh, that is impossible," said Christopher Robin,
"One can't do that!"
"Yes, Christopher Robin, you are correct," replied Pooh.
"One can't … but two can."

—A. A. Milne
Further Reading